An anniversary milestone is a major accomplishment for any law firm. Whether you're celebrating 5, 10, or 20 years, it's a testament to your firm's survival in a highly competitive market. Commemorating your success does as much to improve employee morale as it does to improve the firm's esteem with clients, who will be reassured by your consistency and longevity.
However, this doesn't mean you can stick a gold anniversary medallion on your existing branding, change nothing else, and call it a day. Spending a little extra effort on your law firm's anniversary branding can make a big impact on potential clients.
At Knapp Marketing, we recently completed an anniversary rebranding for one of our oldest clients, Ifrah Law, who is now celebrating their 10-year anniversary. Let us show you our top recommendations for a law firm anniversary celebration done right.
Stay on Brand
Ever since we began working with Ifrah Law, we've leaned into the firm's use of boxing metaphors for their practice. The tagline: "Hands-on Counsel, Gloves-off Litigation" perfectly encapsulates Ifrah's attitude in the office and the courtroom.
When we were brainstorming a catchy tagline for their 10th anniversary, we made sure the boxing imagery persisted. "In your corner for 10 years," not only furthers the metaphor, but it also puts Ifrah's clients at the center of the celebration.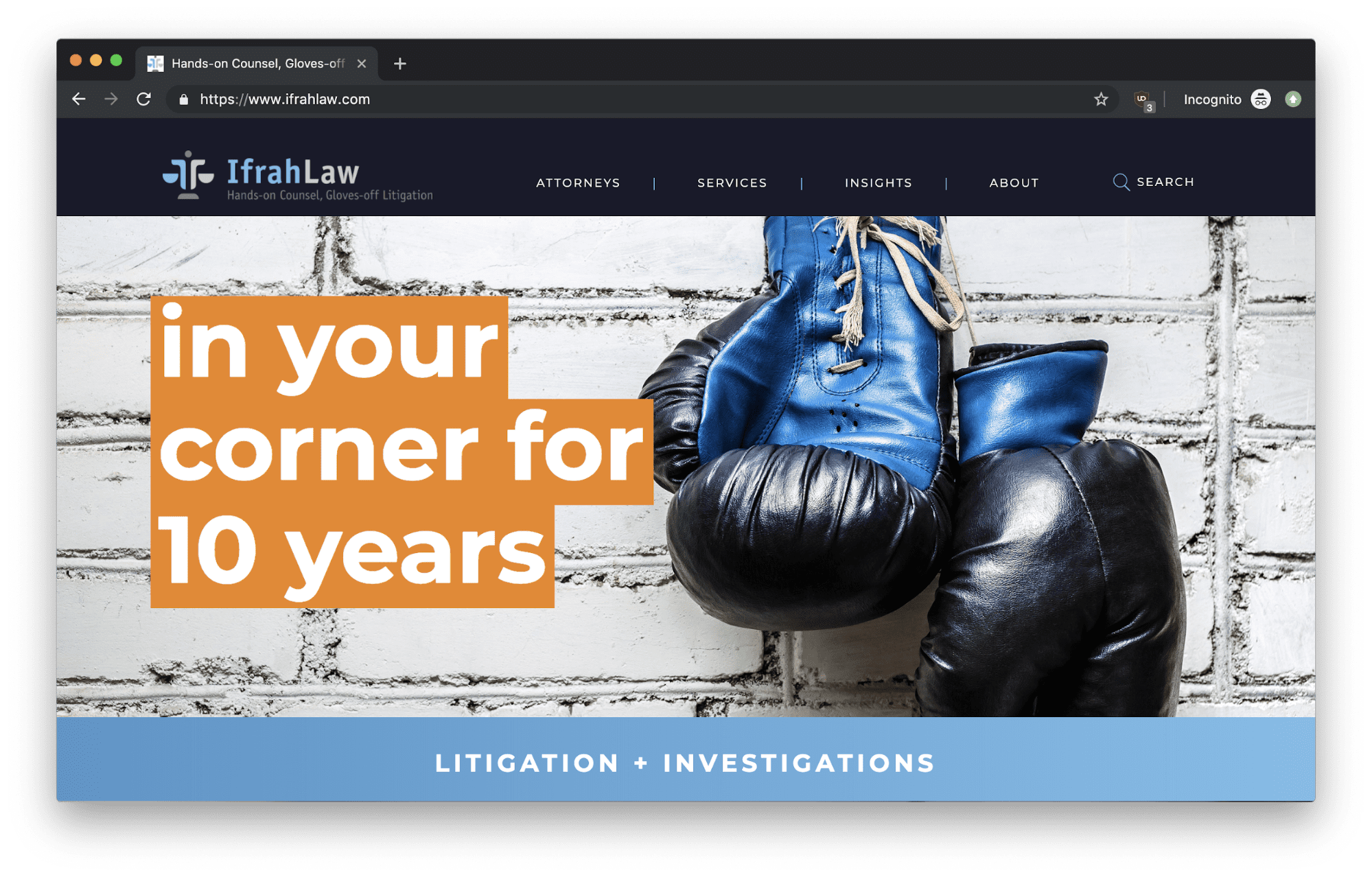 Make it Sitewide
Our rebranding is more than just a new splash image. Navigate to any page on the Ifrah Law website for a brightly-colored reminder of the anniversary the firm is celebrating. That is because, in modern web design, every page on the site is a potential front page.
In the Internet's infancy, we could reliably expect people to type in a URL and find themselves on the website's home page. But today, when people have the options to click links from search engines, social media, and blog posts, they could wind up on an interior page first. This is probably happening on your own website more often than you think, and you can use an analytics tool like Clicky or Google Analytics to check your users' behavior.
A bright orange banner welcomes visitors to the website no matter which page they came from, and it keeps the celebration going as they continue to browse the site.
Roll it Out Online
The 10th-anniversary branding isn't limited to just Ifrah's website either. It also meets clients and potential clients halfway at the places they already spend their time on—social media like Twitter and LinkedIn, and their email inboxes.
Ifrah's LinkedIn page got an eye-catching orange banner as did its Twitter presence. Every attorney at the firm also got a small but splashy new email signature for the occasion. Continuing the celebration on social media allows Ifrah Law to present a consistent image to clients while ensuring that the maximum number of people take notice.
Party Like it's 1999
It's not a celebration without a party! The celebration's crowning event doesn't take place online at all, but at an in-person gala for Ifrah Law staff and their clients. Using MailChimp, we designed an invitation consistent with the anniversary branding to get recipients excited.
To give the celebration something special, we invited esteemed speaker, Emily Bazelon, the author of Charged: The New Movement to Transform American Prosecution and End Mass Incarceration, to talk to the firm and their guests about the research she discusses in her bestseller exclusively for the anniversary event. It elevates the party beyond a simple get-together and makes sure every guest learns something new.
Let Them Take it Home!
Ifrah Law's 10th Anniversary party guests won't simply take home new knowledge. We also developed a quirky in-brand favor for everyone to take home: miniature boxing gloves.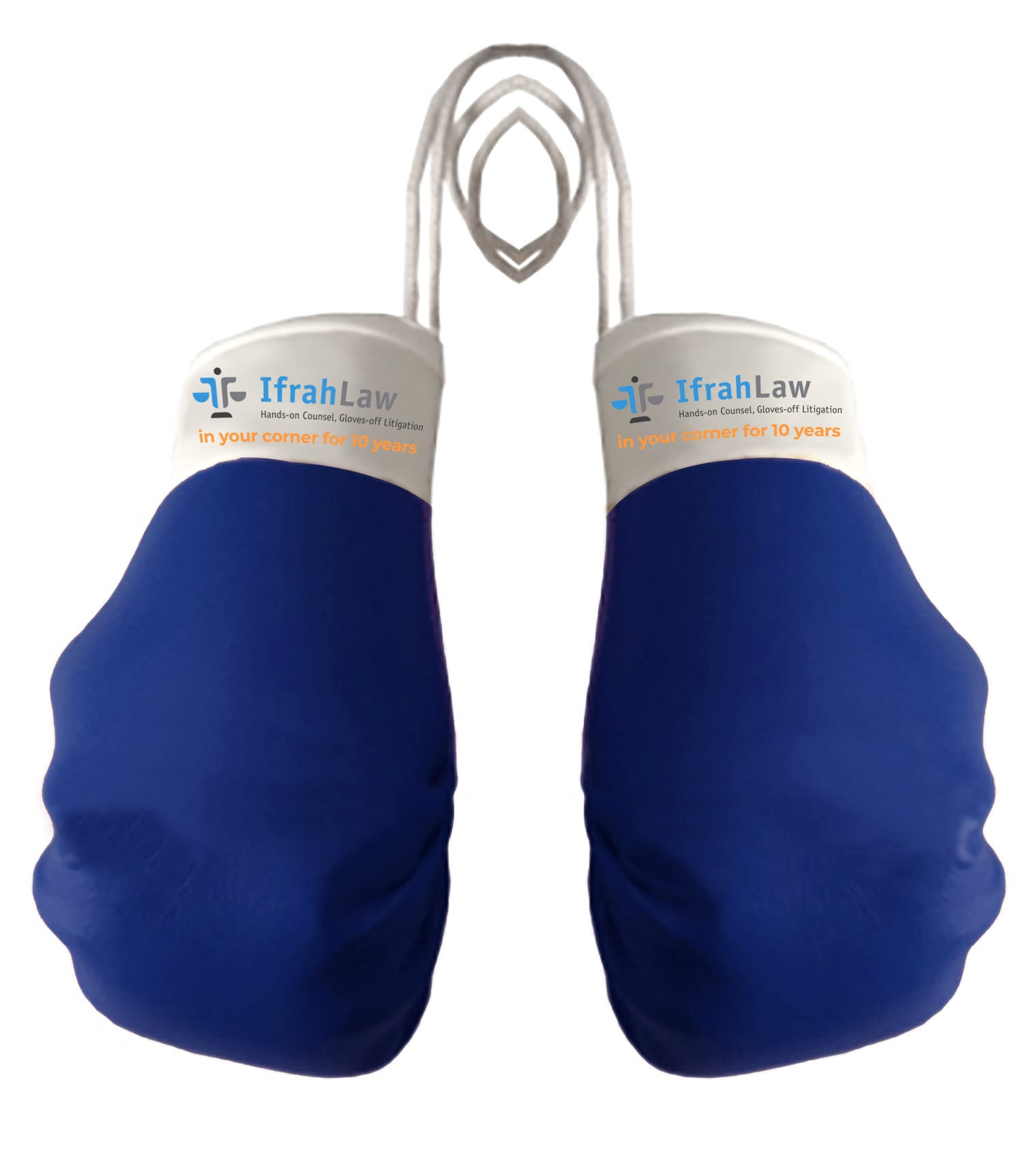 These gloves may be small, but they make a big impact. They continue Ifrah's boxing metaphor in a tactile way. Recipients can hang them on a rear-view mirror or from an office bulletin board for a visual reminder of Ifrah Law's messaging and what the firm stands for.
A law firm anniversary celebration should be about more than just a number. When done right, it's a return to the firm's values and an opportunity to reinforce its branding. Ifrah Law's anniversary reminds clients that this celebration is really about them. Ifrah's tough, boxing-inspired branding exists a reason: to support the customers who have helped the firm stay in business for the past 10 years.